Heat Exchanger & Pump
As a specialist in field of food processing and energy /utility technology with world wide thermal engineering since 1993. Today Kaudy Inc. Appointed Khwanpitcha Sales ad services promoted Gasket plate heat exchanger. Kaudy Inc has been development , designing and manufacturing to meet your requirement in food and beverage industries requiring heat transfer by using our own innovative technology and become leading in plate heat exchanger.
KAUDY TUBE
Kaudy Inc, has been development Tubular heat exchanger for high viscosity product designing and manufacturing to meet your requirement in food and beverage industries requiring heat transfer.
Features and Advantages
KAC Sanitary centrifugal Pump series features single stage, single suction and open-style impeller. The casing, impeller and back plat are well designed to reduce resistance, eliminate dead space and quicken the flow in the pump, thus to improve its overall performance. The open-style impeller ensures the best cleavability(CIP) and outstanding sanitary performance. There are still other advantages such as stability, high efficiency and easy maintenance. Furthermore, Adjustable supporting legs, any angle that outlet can be positioned, all these provide convenience of installation and operation.
Material
Medium-contacting parts: 304 or 316L stainless steel
Other parts: 304 stainless steel
Auxiliary seal: EPDM, VMQ, FKM, PTFE
Machinery sealed material: C-SiC,TC TC-TC
Shaft Seal
KAC Sanitary Centrifugal Pump series mechanical seal that provides the advantages of good sealing performance, self-lubricity, resistance to wear, high temperature and corrosion; leakage-free, easy installation and disassembly. Both single and double end face mechanical seal are available seal are easy to be replaced and maintained, cost-effective interchangeable to prolong the service life of the pump.
Surface Treatment
Medium-contacting Parts: polishing, Ra≤0.8um, other parts: matt or sandblasting.
Motor
1. ABB three phase alternating current motor is mainly dopted. It is produced in compliance with IEC60034/IEC60072 standards and CE of EU.
2. Anti-explosion motor is available to meet requirements on different occasions.
3. Outstanding electrical properties, low noise, low vibration, staandard, IP Grade is IP55, insulation class is grade F.
4. Working voltage: ≤3Kv, 220-240V/380-420V, ∆/Y >3Kw, 380 420V/660V, ∆/Y
5. Frequency: 50Hz/60Hz
6. Working mode: continuos(SI)
7. Rotating Speed: standard: 2900r/min
Model description of KAC Sanitary Centrifugal Pump (Example)

Application
KAC Canitary Centrifugal Pump series is widely used in the transportation of materials in dairy, beer, and beverage, pharmaceutical and chemical industries.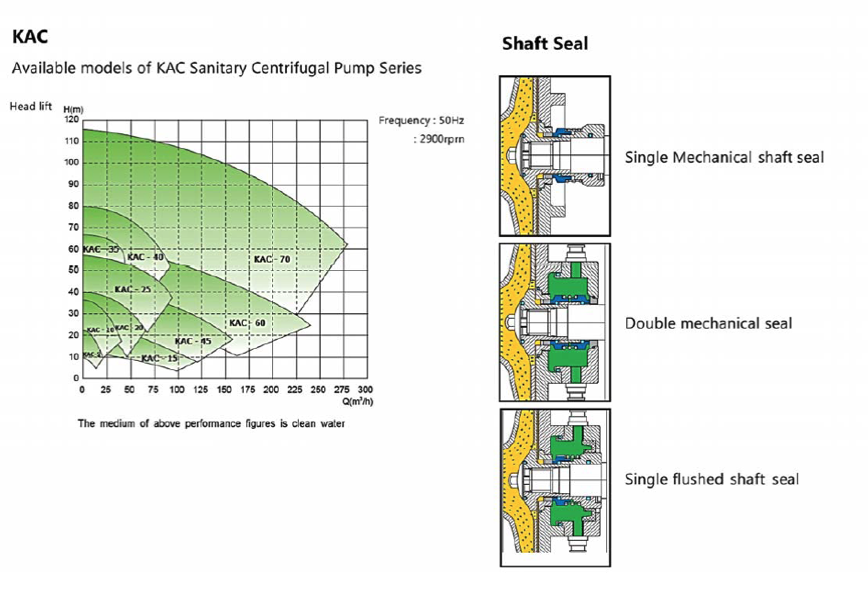 Kaudy double-stage liquid ring vacuum pump
KAV series two stage liquid ring vacuum pump is our new design base on 2SK pumps and combines USA double-stage pump design criteria. This series has two compression processes, with steady suction speed in high vacuum, ro keeping the high vacuum in wide rage of suction speed. Its effciency in high vacuum is 35%-40% higher than that of single stage pump, but with less energy consumption.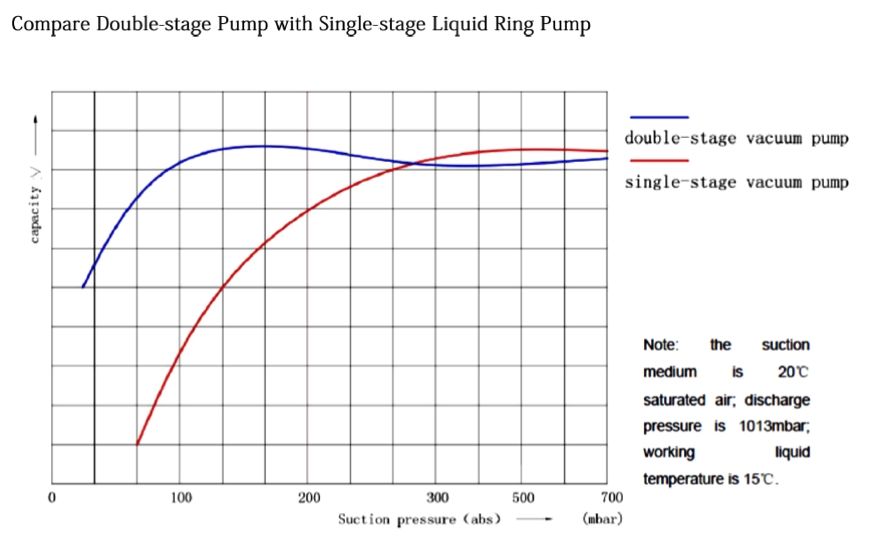 From the performance curve above we can see that, single stage pump is suitable to work in a acondition which do not ask for high vacuum, and its capacity is large; however in relative high vacuum, its capacity declines obviously (it declines rapidly below 200mbar and below 100mbar it is seriously declined). Under this condition, the pump effiency is quite low but cost more energy. However for double stage pump, it has larger capacity in relative high vacuum, and in high vacuum its efficiency is 30%-40% higher than single stage ones and consume less energy. Therefore double stage pump is more suitable than the single one to work in the condition asking for high vacuum and large capacity at the same time.
Fields of Application
KAV series pumps are very suitable for process of vacuum drying, evaporation, distillation, concentration, filtering, degassing industry of food, pharmacy, chemical, power plant, paper making, textile, metallurgy, etc.